Its been clear for a long time now that the Romney campaign is doing everything they can to create a phantom Obama to run against in order to avoid dealing with the real thing. The latest example is that he keeps trying to make something out of
President Obama's
statement about businesses needing a strong public sector to thrive.
Yesterday,
Romney doubled down
on this one in an interview with Larry Kudlow saying that President Obama is suggesting something that is un-American.
This is an ideology which says hey, we're all the same here, we ought to take from all and give to one another and that achievement, individual initiative and risk-taking and success are not to be rewarded as they have in the past. It's a very strange and in some respects foreign to the American experience type of philosophy. We have always been a nation that has celebrated success of various kinds...So his whole philosophy is an upside-down philosophy that does not comport with the American experience.
As many have pointed out already, the idea of President Obama's philosophy being "foreign" is yet another dog whistle sent out to his nativist base.
But I'm seriously tired of going on the defensive about this shit. I'm ready to ask who's "American experience" Romney is referring to. Who are these people who did it all on their own? The truth is - they don't exist.
What's going on here is that folks like Romney would like to pretend that they did it on their own so they can pull the ladder out from under the rest of us to make sure no one else gets where they did. The best way to illustrate it is by sharing one of my favorite comic strips.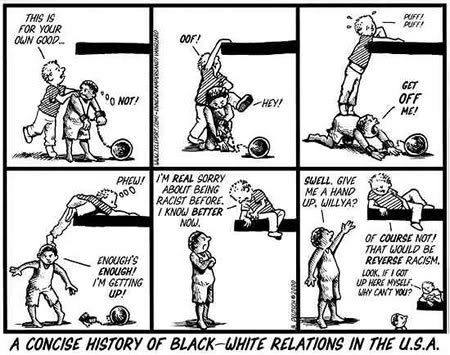 The white male heterosexual patriarchy sees the "unwashed masses" of brown, female, GLBT folks finally being in a position to threaten their dominance. That scares the hell out of them. So they're pretending they got up there all by themselves and doing everything they can to destroy the ladder up for anyone else.
Even more than taking President Obama's words out of context, that's the lie Romney is trying to tell.