A few days ago I was pretty tired of all the bad advice we were hearing from the left about what President Obama should/shouldn't do. And so I wrote
Let Obama BE Obama.
Te truth is, that kind of advice starts coming from would-be supporters when they think your campaign is in trouble. On the heels of a slow-down in the economy and the failure of the recall effort in Wisconsin, too many Democrats panicked and started in with their doom-and-gloom about how Obama would lose unless he did _______ (fill in the blank).
Its becoming obvious to me that an awful lot of conservatives think the Romney campaign is in trouble...the advice is pouring in. A few weeks ago
I noted
that people like Noonan, Kristol and Gov. Scott Walker were weighing in.
Recently
The Hill
reported that there is a growing chorus amongst Republican lawmakers for Romney to distance himself from Bush...but only if he does it nicely ;-) The trouble is, in order for Romney to be able to distance himself from Bush, he'd actually have to - you know - propose something different. That opens up a whole can of worms, doesn't it?
And then today, Rupert Murdoch's editorial writers at the
Wall Street Journal
took a big swing at Romney and his campaign staff on the kerfluffle over "tax or penalty" in Obamacare.
This latest mistake is of a piece with the campaign's insular staff and strategy that are slowly squandering an historic opportunity. Mr. Obama is being hurt by an economic recovery that is weakening for the third time in three years. But Mr. Romney hasn't been able to take advantage, and if anything he is losing ground.

The Romney campaign thinks it can play it safe and coast to the White House by saying the economy stinks and it's Mr. Obama's fault. We're on its email list and the main daily message from the campaign is that "Obama isn't working." Thanks, guys, but Americans already know that. What they want to hear from the challenger is some understanding of why the President's policies aren't working and how Mr. Romney's policies will do better...

The biography that voters care about is their own, and they want to know how a candidate is going to improve their future. That means offering a larger economic narrative and vision than Mr. Romney has so far provided. It means pointing out the differences with specificity on higher taxes, government-run health care, punitive regulation, and the waste of politically-driven government spending.

Mr. Romney promised Republicans he was the best man to make the case against President Obama, whom they desperately want to defeat. So far Mr. Romney is letting them down.
Ouch!
So the editorial staff at the WSJ want Romney to make a case about why the Republican policies implemented under Bush - that got us into this mess - will do better than the one's President Obama is proposing to get us out of it.
The moral of this story is that you know your campaign is in trouble when these are your choices...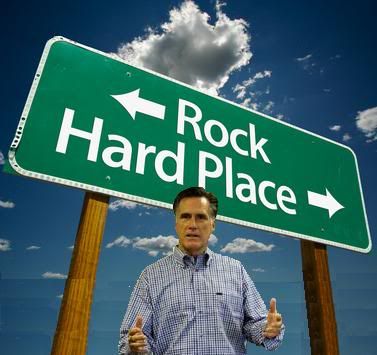 UPDATE:
Double ouch!!!
Bill Kristol
blisters Romney today.
Remember Michael Dukakis (1988) and John Kerry (2004)? It's possible to lose a winnable presidential election to a vulnerable incumbent in the White House (or in the case of 1988, a sitting vice president). So, speaking of losing candidates from Massachusetts: Is it too much to ask Mitt Romney to get off autopilot and actually think about the race he's running?

Adopting a prevent defense when it's only the second quarter and you're not even ahead is dubious enough as a strategy. But his campaign's monomaniacal belief that it's about the economy and only the economy, and that they need to keep telling us stupid voters that it's only about the economy, has gone from being an annoying tick to a dangerous self-delusion.
If Romney wasn't such an ass himself, I would almost be tempted to feel sorry for him. What these idiots on the right don't understand is that if Romney was actually to develop a specific message, one of two things would happen - depending on which direction he went:
The general electorate would see it as "Bush on steroids" and reject it, or
The Republican base would revolt
These are the same Republicans who wanted a chameleon candidate because the reality of Republican extremism these days would never fly in a national election. Now that they got what they wanted, they're pissed because its not working.
Let the great Republican divide continue!