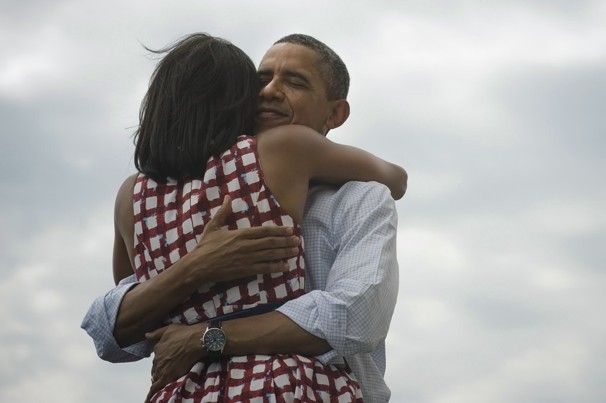 Shortly after news networks said President Obama had won reelection, this photo was sent from the president's Twitter account. The photograph was retweeted hundreds of thousands of times, becoming the most popular image in Twitter history.
Phillip Kennicott
shared his thoughts about why this particular photo caused such a stir.
Unlike many images of political marriage in which the man lays claim to his wife through a symbolically possessive gesture — touching her shoulder, raising her hand up or kissing — the embrace between these two people seems mutual. The first lady is, among many other things, a big woman, famed for her well-toned arms, and in this image of hugging, she's giving as good as she gets.

The president, if anything, seems to need this hug and appears almost dependent and vulnerable. The obligatory masculine markers of leadership — resolve, self-sufficiency and emotional equanimity — dissolve into the obliterating communion of two people lost in their own love world...

The photograph strongly suggests an ideal of mutuality in marriage, unencumbered by older ideas of possession and obedience that still hold sway in some deeply traditionalist religions.
Perhaps you'll think that Kennicott is overdoing it a bit. And maybe he is. All I know is that,
as Chipsticks demonstrated today
with her posting of headlines on the election from around the world, it was this picture (with a similar theme) that dominated.
And then there was this one that made
most of us go a bit verklempt the moment we saw it.
What ever it is that stirs us, this one thing is sure...we all know what love looks like when we see it.