If Governor Walker thought the people of Wisconsin would soon tire of this fight, I suspect he got a rude awakening yesterday when
up to 100,000 people braved the snow and 17 degree temperatures
to continue the protest.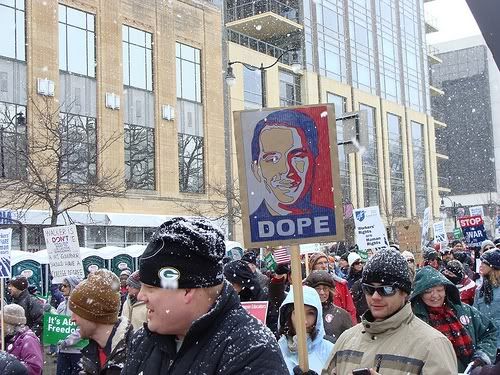 Not only that...there were
protests of support for Wisconsin workers all over the country yesterday.
As a lead-in to Saturday's news,
there was an interesting development Friday night.
Police have just announced to the crowds inside the occupied State Capitol of Wisconsin: 'We have been ordered by the legislature to kick you all out at 4:00 today. But we know what's right from wrong. We will not be kicking anyone out, in fact, we will be sleeping here with you!'
And they had a few things to say to the crowd and to Governor Walker.
This is not a budget issue. Its a civil rights issue. And we will defend your rights. Mr. Walker, if you are listening to me, let me tell you something. We know pretty well now who you work for. Let me tell you who we work for. We work for all of these people. We are not here Mr. Walker to do your bidding. We're here to do their bidding. Let me tell you Mr. Walker, this is not your house, this is all our house.