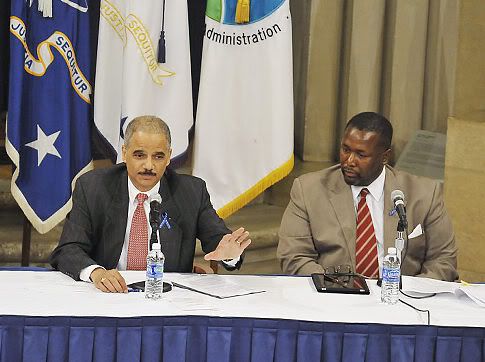 Speaking on a panel with cast members from the HBO series "The Wire,"
Attorney General Eric Holder
tried to throw his weight around a bit.
"I want to speak directly to Mr. (Ed) Burns and Mr. (David) Simon," Holder said during the panel presentation. "Do another season of 'The Wire.' That's actually at a minimum. … If you don't do a season, do a movie. We've done HBO movies, this is a series that deserves a movie. I want another season or I want a movie. I have a lot of power Mr. Burns and Mr. Simon."

Unfortunately for fans of the show, it is not constitutional for Holder to order a new show.

But the series, which was lauded for its accurate portrayal of the war on drugs and poverty in inner-city Baltimore, is still a favorite around the Justice Department. National Drug Control Policy czar Gil Kerlikowske said that episodes of the show are used to educate people about the plight of children caught up in the drug trade, the Washington Examiner reported.

President Obama has also previously said that he's a fan of the show.
If you've never watched this show - I recommend that you do so at your earliest convenience. There were a total of 5 seasons and so summarizing the powerful messages portrayed would be difficult to do. But one thing the show did accomplish was to explain the plight of children growing up in urban America - especially during the 4th season when the focus was on four 8th grade boys. The message is captured pretty well by Anthony Hamilton's "Ain't Nobody Worryin."
The reason AG Holder participated on this panel was to discuss DOJ's
Federal Interagency Task Force on Drug Endangered Children.
If this effort is informed by what folks learned from watching "The Wire," then I suspect it will be pretty well grounded.