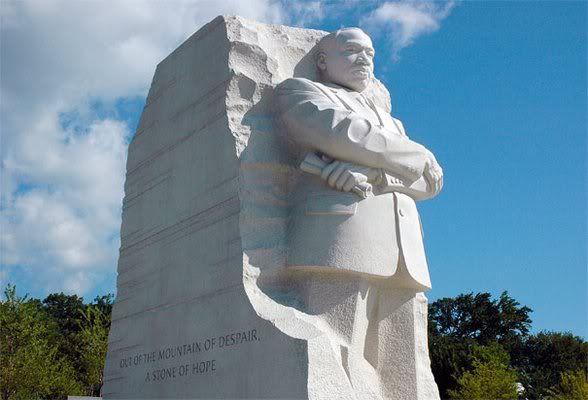 Rev. Martin Luther King, Jr. August 28, 1963:
This is our hope. This is the faith with which I return to the South. With this faith we will be able to hew out of the mountain of despair a stone of hope. With this faith we will be able to transform the jangling discords of our nation into a beautiful symphony of brotherhood.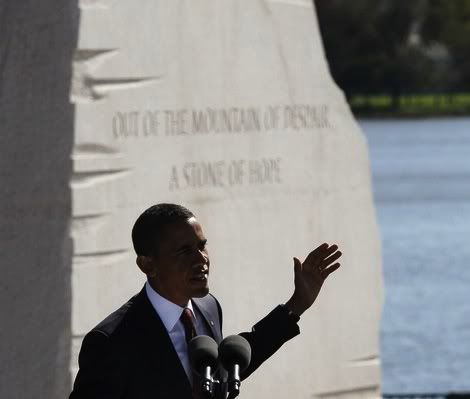 President Barack Obama, October 16, 2011:
And just as we draw strength from Dr. King's struggles, so must we draw inspiration from his constant insistence on the oneness of man; the belief in his words that "we are caught in an inescapable network of mutuality, tied in a single garment of destiny."...

And so at this moment, when our politics appear so sharply polarized, and faith in our institutions so greatly diminished, we need more than ever to take heed of Dr. King's teachings. He calls on us to stand in the other person's shoes; to see through their eyes; to understand their pain...

To say that we are bound together as one people, and must constantly strive to see ourselves in one another, is not to argue for a false unity that papers over our differences and ratifies an unjust status quo...Dr. King understood that peace without justice was no peace at all; that aligning our reality with our ideals often requires the speaking of uncomfortable truths and the creative tension of non-violent protest. But he also understood that to bring about true and lasting change, there must be the possibility of reconciliation; that any social movement has to channel this tension through the spirit of love and mutuality.

If he were alive today, I believe he would remind us that the unemployed worker can rightly challenge the excesses of Wall Street without demonizing all who work there; that the businessman can enter tough negotiations with his company's union without vilifying the right to collectively bargain. He would want us to know we can argue fiercely about the proper size and role of government without questioning each other's love for this country -- with the knowledge that in this democracy, government is no distant object but is rather an expression of our common commitments to one another. He would call on us to assume the best in each other rather than the worst, and challenge one another in ways that ultimately heal rather than wound.
(P.S. Is it my imagination, or did he get a little choked up at the end?)