Meet the three women who were awarded the Nobel Peace Prize "for their non-violent struggle for the safety of women and for women's rights to full participation in peace-building work."
Tawakkul Karman,
Yemen
Tawakul Karman created the human rights group Women Journalists Without Chains (WJWC) in 2005 for promoting human rights, "particularly freedom of opinion and expression, and democratic rights"...

During the ongoing 2011 Yemeni protests Tawakel Karman organised student rallies in Sana'a to protest against Ali Abdullah Saleh and his government.
Ellen Johnson Sirleaf
"Iron Lady," Liberia
Ellen Johnson Sirleaf is the 24th and current President of Liberia. She served as Minister of Finance under President William Tolbert from 1979 until the 1980 coup d'état, after which she left Liberia and held senior positions at various financial institutions. She placed a very distant second in the 1997 presidential election. Later, she was elected President in the 2005 presidential election and took office on 16 January 2006. Sirleaf is the first and currently only elected female head of state in Africa...

Forbes magazine named Sirleaf as the 51st most powerful woman in the world in 2006. In 2010, Newsweek listed her as one of the ten best leaders in the world, while Time counted her among the top ten female leaders. That same year, The Economist called her "arguably the best president the country has ever had."
Leymah Gbowee,
Monrovia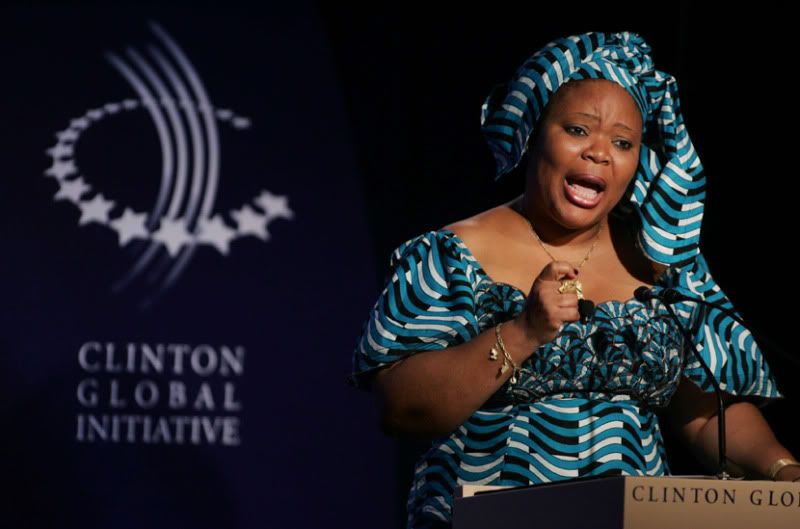 Leymah Roberta Gbowee is an African peace activist responsible for organising a peace movement that brought an end to the Second Liberian Civil War in 2003. This led to the election of Ellen Johnson Sirleaf in Liberia, the first African nation with a female president.
Perhaps Gbowee's story is best told in the documentary
Pray the Devil Back to Hell.
Thank you Nobel Peace Prize Committee for bringing these powerful stories to light!