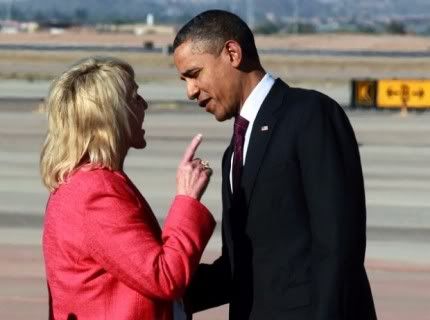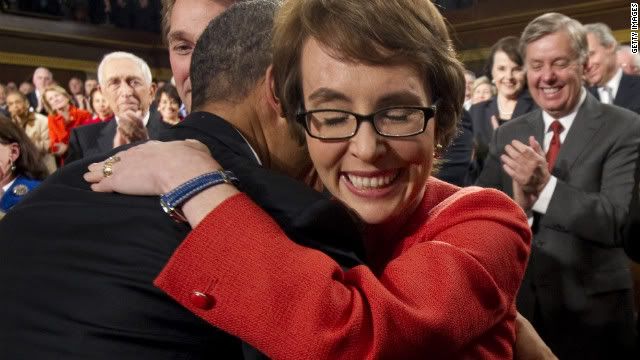 The genius of pairing these two seminal moments from the last week - both of which involved President Obama interacting with white female politicians from Arizona - is not mine to claim. It belongs to Brittney Cooper at
The Crunk Feminist Collective.
Well done Brittney!!!
But I think these two moments perfectly capture the tension that is beneath much of our political discourse today - both the threat that some people seem to wallow in (Brewer) and the opportunity that is there for the taking (Giffords). Can our country weather what Tim Wise calls "the perfect storm of white anxiety" facing us today and embodied by our first African American President?
Now, while you think about that...go read Cooper's whole article. She'll break down what that challenge means and what Gov. Brewer demonstrated about the fault lines. Here's a taste:
White privilege conditions white people not to see white rage. However, it makes them hyper-aware of Black threat. Newt Gingrich is white rage personified. And for it, he gets loads of applause. So is Jan Brewer, but usually we think of white rage in masculine terms. Gender stereotypes condition us not to see white women as being capable of this kind of dangerous emotional output. We reserve our notions of female anger for Black women. Such hidden race-gender logics allow Brewer to assert that she "felt threatened," even though she was trying to handle the situation "with grace." Now look back at the picture: who is threatening whom?...

And I know that if a Black woman had wagged her finger at Bush II or even Bill Clinton, we would have seen her faced down, handcuffed, with Secret Service swarming. When your race and gender grant you opportunities to be treated with dignities that others don't have or conversely, to heap indignities on those people, that is what we call privilege. Deal with it.