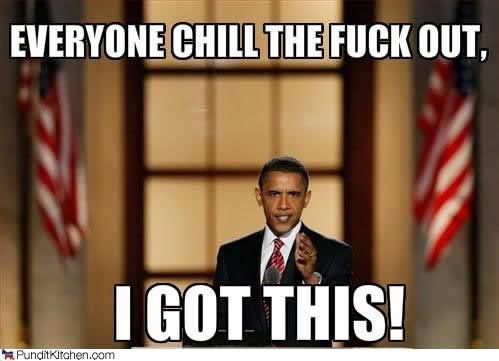 This week I highlighted an article about Obama's presidency written by
James Fallows
because I found it to be one of the most balanced reviews I've read. I said I couldn't parse it and only suggested that folks read the whole thing. Now that I have a bit more time on my hands (yeah for weekends!), I'd like to take a closer look at it.
In the beginning, Fallows asks an important question.
In office as during his campaign—indeed, through the entirety of his seven-plus years as a national figure since his keynote speech at the Democratic Convention in the summer of 2004—Obama has maintained his stoic, unflapped, "no drama" air...The earnestly devotional HOPE poster by Shepard Fairey was the official icon of the Obama campaign. But its edgier, unofficial counterpart, a Photoshopped Internet image that appeared as an antidote to the panic over polls and Palin, perfectly captured the candidate's air of icy assurance. It showed a no-nonsense Obama looking straight at the camera, with the caption EVERYONE CHILL THE FUCK OUT, I GOT THIS!...

Whether things seem to be going very well or very badly around him—whether he is announcing the death of Osama bin Laden or his latest compromise in the face of Republican opposition in Congress—Obama always presents the same dispassionate face. Has he been so calm because he has understood so much about the path ahead of him, and has been so clever in the traps he has set for his rivals? Or has he been so calm because...he has been so innocently unaware of how dire the situation has truly been?

This is the central mystery of his performance as a candidate and a president. Has Obama in office been anything like the chess master he seemed in the campaign, whose placid veneer masked an ability to think 10 moves ahead, at which point his adversaries would belatedly recognize that they had lost long ago? Or has he been revealed as just a pawn—a guy who got lucky as a campaigner but is now pushed around by political opponents who outwit him and economic trends that overwhelm him?
When Fallows gets to the point in the article where he critique's President Obama's performance, here's what he sees as the weaknesses.
Inexperience: that Obama's own lack of executive experience left him reliant on the instincts and institutional memory of others—and since so many of his appointees came from the Clinton administration, he was also vulnerable to '90s-vintage groupthink among them. This was particularly true, as we'll see, during his response to the economic crisis in his first year in office, and then during his showdowns with Congress after Tea Party–inspired Republicans regained control of the House.

Coldness: that what looks serene in public can seem distant and aloof in his private dealings and negotiations.

Complacency about talent: that the disciplined excellence he demands of himself—in physical fitness and appearance, in literary polish of his speeches, in unvarying control of his mood and public presentation—has not extended to demands for a comparably excellent supporting staff.

Symbolic mismatch: that Obama's personal achievement in rising to the presidency betokened, for much of the electorate, far more sweeping ambitions for political change than Obama the incrementalist operator ever had in mind.
And when it comes time to look at strengths, here's what Fallows says:
What I've concluded now is that Obama has shown the main trait we can hope for in a president—an ability to grow and adapt—and that the reason to oppose his reelection would be disagreement with his goals, not that he proved unable to rise to the job. As time has gone on, he has given increasing evidence that the skills he displayed in the campaign were not purely a fluke.

"Three of the most important things he has done are hardest to appreciate," Tom Daschle, the former Senate majority leader and an early supporter of Obama's presidential campaign, told me...

The first is a negative accomplishment: avoiding an economic catastrophe even worse than the one the United States and the world have been through...

The second is what Daschle called "the dramatic improvement in the American image abroad."...

And finally, according to Daschle, the health-care bill that passed so narrowly and is so controversial will, especially if Obama is reelected, rank with Medicare in the list of legislative and social achievements by Democratic presidents.
I wonder if you see the same thing I do in these two lists. When it comes to weaknesses, they're all about personality and process. And the strengths all point to very real accomplishments.
I would suggest that this difference pretty much answers Fallows original question about whether or not President Obama is a chess master or pawn. Could it be that in assessing his personality and processes people like Fallows are simply focusing on and/or interpreting the wrong things? How did he get to those major accomplishments if his process was so lacking?
In the end, at least Fallows demonstrates that he's heard (and maybe even embraced) an alternative view of the process.
But those around him make the case that in addition to being very unlucky (in the circumstances he inherited) and very lucky (in the Republican field that chose to run against him), Obama also shaped his luck by being shrewd, in three significant ways. First, according to this view, he always kept his eye on what mattered most, namely avoiding another recession—and compromised and backtracked only when, in his assessment, the alternative would have been a greater economic risk. Next, he absorbed pummeling by Republicans not so much because he was weak or unsuspecting as because he recognized problems the over-reaching opposition was creating for itself, much as he had during the 2008 primaries (and much as Bill Clinton had in 1995). And finally, that while like all presidents he came in unprepared, he adjusted as fast as anyone could have expected and was increasingly in control of events as time went on.
In other words, the chess master continued to focus on his North Star, marginalized Republicans with his conciliatory rhetoric as ruthless strategy, and learned/adjusted as the situation developed...pretty much what we've been saying all along.