Here are some stories that caught my eye today.
First of all, in a move that not many folks are likely to notice,
President Obama
recently took steps to protect some of the most marginalized people in our country.
Today, the Obama administration announced that it has finalized regulations implementing the Prison Rape Elimination Act. According to an executive summary provided to members of the media and a conference call held with reporters, the regulations include provisions relating to "lesbian, gay, bisexual, transgender, intersex and gender nonconforming inmates" -- a development a leading LGBT advocate calls one of the most important LGBT advancements in the administration...

Regarding housing and showering decisions, the rule summary states, "In deciding whether to assign a transgender or intersex inmate to a facility for male or female inmates, and in making other housing and programming assignments, an agency may not simply assign the inmate to a facility based on genital status. Rather, the agency must consider on a case-by-case basis whether a placement would ensure the inmate's health and safety, and whether the placement would present management or security problems, giving serious consideration to the inmate's own views regarding his or her own safety. In addition, transgender and intersex inmates must be given the opportunity to shower separately from other inmates."

Looking at the broad picture relating to today's rule, Keisling said, "It's not just about the misery that sexual assault causes, it's also about HIV transmission, it's also about good order in incarceration issues. This is one of the most important things that we've gotten done in the LGBT community because these are really vulnerable people who are really getting messed up.
I understand that this is something a lot of people find uncomfortable talking about. But that's exactly why its such an important and gutsy move by the President.
Secondly,
the Romney campaign
continues to look like the "gang who couldn't shoot straight"...especially when it comes to Latino voters.
GOP Presidential candidate Mitt Romney just released his first Spanish general election ad called "Día Uno," which is the exact replica of his English ad except for the Spanish voice and copy on the screen.
That's exactly what Latino marketing experts have been saying not to do for decades: don't just translate, relate!
And speaking of the gang who couldn't shoot straight, sometimes I get a big laugh out of reading wingnut headlines. Here's a couple of winners.
Now, on to more pleasant things.
I guess that since all the ladies got to drool over the chance to meet George Clooney, its only fair that the Obama campaign reaches out to men by offering a chance to
have dinner with Sarah Jessica Parker.
I'd just want to know if
Matthew
is going to be home ;-)
And finally,
President Obama remembers.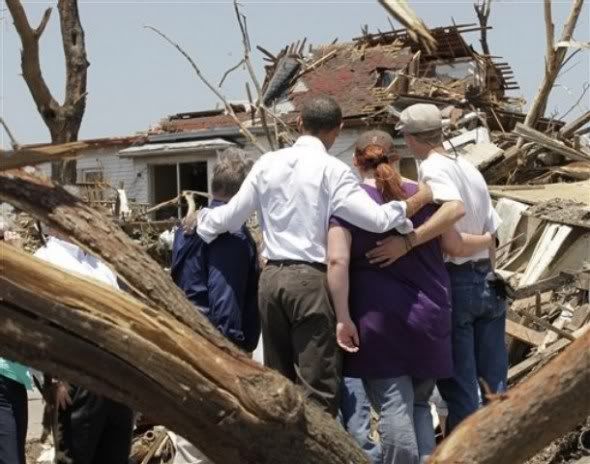 Per the White House, President Obama will travel to Joplin, Missouri on May 21 to deliver the commencement address at Joplin High School's 2011-2012 graduation ceremony. Devastating tornadoes ravaged Joplin nearly a year ago today.