In response to the Democratic loss in the Governor's recall election in Wisconsin last night, there has been and will be all kinds of assumptions made about what we can learn from the results. Since I don't tend to buy conventional wisdom, I went to look at the numbers to see what they tell us.
Of course the Republicans will want to spin this as bad news for President Obama and good news for Mitt Romney. That is
just not true.
In fact, exit polls show Walker winning 17 percent of Obama supporters — much higher than Democrat Tom Barrett's 6 percent of Mitt Romney supporters. Overall, the electorate that turned out today is backing Obama by a significant margin: 52 percent to 43 percent.
My immediate question when I heard this was "how can a Walker voter support Obama?"
Here's how.
Asked about the use of recall, 60% said it should be reserved for misconduct, 27% said it should be available for any reason, and 10% said it should never be used.
Those numbers translate into 70% of Wisconsin voters who don't agree with a recall election under these circumstances. It would be interesting to know whether or not that influenced many people in their vote yesterday.
From that same article, we learn that the electorate in Wisconsin yesterday wasn't very much different than the one that made Walker the Governor in 2010.
In the end, after all the ground-breaking rancor and searing conflict and mind-boggling money and crushing attention, Scott Walker's 2012 victory for governor looked a lot like his 2010 victory for governor...

This was a volatile conflict but not a volatile electorate. Instead, voters showed every sign of being fixed in place when it came to their views of Walker. According to the exit polls Tuesday, only 8% of voters decided their vote in the last few days of the election.
Here's a chart they put together comparing exit poll information from 2010 and the recall.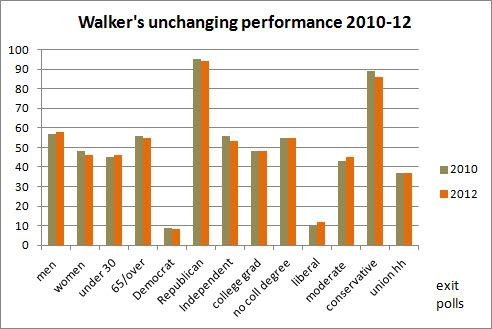 The lack of volatility and the fact that only 8% of the electorate made up their minds in the last few days also challenges the conventional wisdom coming from the left that the Walker win is all about his money advantage. With these kinds of numbers its hard to imagine that all the advertising had much impact on the outcome.
Finally, it seems that all the talk about over 100% turnout in Wisconsin yesterday turned out not to be the case - at least not statewide. Its hard to know what to expect in an unprecedented election like this, but
the truth is that turnout
was higher than 2010, but 400,000 votes (13%) lower than in 2012.
Yesterday, about 2.5 million people voted. In 2010, it was 2.15 million. In 2008, it was 2.93 million.
I'm left with a feeling of pride in the efforts of all the Democrats in Wisconsin who worked so hard to change an untenable situation in their state. But it was a HUGE uphill battle with very unique barriers to overcome. So I'm not prepared to find much there that speaks to what the rest of us face in the upcoming national election.