I feel the need to inject a note of caution in the analysis of last night's debate. But first, let me join my Democratic colleagues in saying how much I enjoyed watching Vice President Joe Biden. Because - if you're a Democrat - how can you not love this guy?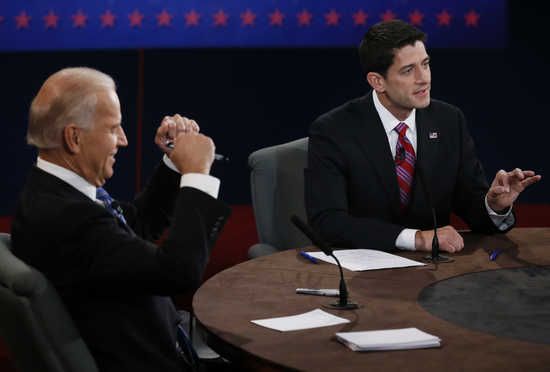 But overall, I have to say that I agree with something
Greg Sargent said.
It was, compared with last week's tame affair, much better television. Did it "work"? That entirely depends on the goal. If it was to change minds, no, that seems unlikely. If it was to re-invigorate Democrats who were despondent over Romney's recent polling surge, or those who were angry with the president for a flat performance last week, then it probably did what it was meant to do.
There is something to be said for soothing the panic that had broken out in the Democratic ranks over the last week. To be real honest, that panic pissed me off.
Kevin Drum
has a point - there is a "hack gap" - and if you didn't believe him before, last night was pretty good proof. No one on the right is gnashing their teeth this morning that Paul Ryan got played.
But given the Democrat's tendency to form a circular firing squad at the first sign of trouble, VP Biden did what he needed to do to calm them down. Thank you Joe!!!!!
Going forward though, we need to think more broadly than that. Too many Democrats are using their own reactions to the debate last night to suggest that attacking the opposition is the way to win. I have my doubts about that. Most Democrats are already convinced that they should vote for Obama/Biden. Seeing our candidates go on the attack makes us feel better. But does it change anyone else's mind? That's the question we need to ask ourselves.
To try to answer that one, this morning I watched
CNN's video of the debate
with the dials from undecided voters. What I saw was the approval go up when either candidate spoke to the people about their situation and what their proposals were to do something about it. And I saw the approval plummet when either one attacked the other side's position. That's just a fact.
As an example, I read/heard many Democratic pundits express dismay that President Obama didn't bring up Romney's remarks about the 47%. Joe Biden did. Partisan Democrats loved it and undecided voters hated it.
When it comes to thinking about what President Obama should do in the next debate, we need to keep two things in mind. First of all, this one will be a town hall format. The candidates will not be talking to a moderator or each other. They'll be talking to voters. That changes the whole dynamic.
Secondly, President Obama is sure to be focused on who his main audience is for this debate. I doubt he'll be thinking about how to rev up the Democratic base with attacks. I suspect he'll be focusing on connecting with average voters who want to hear from someone who understands their situation (something he didn't do well last time) and is clear on what he's going to do about it.
In other words, he'll be going for the win on November 6th - not simply to convince the partisans and pundits that he can land a blow on the opposition.