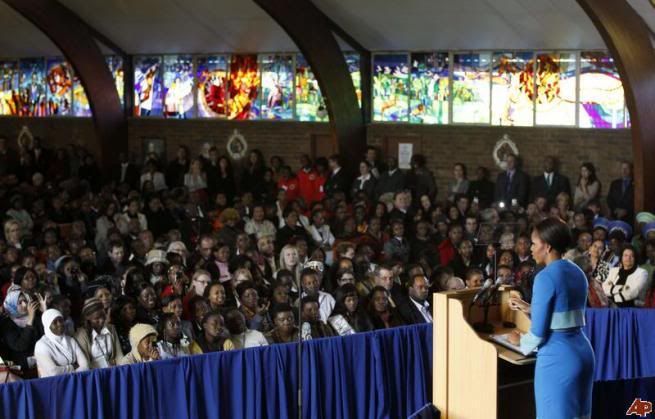 I highly recommend that you visit
The Root
and read Charlayne Hunter-Gault's article about why Michelle Obama's trip to Africa matters.
Here's a brief quote. But I hope it encourages you to go read the whole thing.
But standing in Regina Mundi, the church that was respite for the young people who lit the fuse that ignited the most critical phase of the anti-apartheid struggle in 1976, Michelle Obama reminded them of lessons they should never forget: "The story of young people 20 years ago, 50 years ago, who marched until their feet were raw," she said, "who endured beatings and bullets and decades behind bars, who risked and sacrificed everything they had for the freedom they deserved. And it is because of them we are able to gather here today. It is because of them that so many of these young women leaders can now pursue their dreams."

And the clear payoff of looking back came as Michelle Obama said, "It is because of them that I stand before you as first lady of the United States of America." Those words brought thunderous applause and, I would bet, no small amount of moist eyes, if not tears -- but tears of pride that someone who looked like they did could speak the words no other black woman in history could utter.