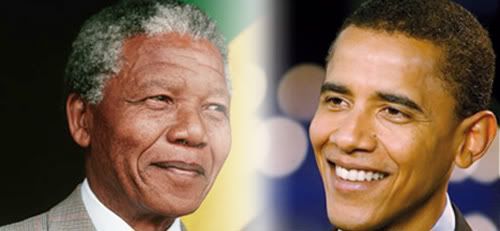 Boy, if people think I'm a blind loyalist to President Obama, they'd surely think I equated Nelson Mandela with deity. That's how much I admire and respect the man. Since most people on the planet would agree that Mandela is one of the greatest political and moral leaders in the history of the world, would it surprise us to find that his leadership style bears a striking resemblance to that of President Obama's?
Richard Stengel, who collaborated with Mandela on his autobiography
Long Walk to Freedom
once wrote an article titled
Mandela: His 8 Lessons of Leadership.
He starts off with the most lovely story.
Nelson Mandela has always felt most at ease around children, and in some ways his greatest deprivation was that he spent 27 years without hearing a baby cry or holding a child's hand. Last month, when I visited Mandela in Johannesburg — a frailer, foggier Mandela than the one I used to know — his first instinct was to spread his arms to my two boys. Within seconds they were hugging the friendly old man who asked them what sports they liked to play and what they'd had for breakfast. While we talked, he held my son Gabriel, whose complicated middle name is Rolihlahla, Nelson Mandela's real first name. He told Gabriel the story of that name, how in Xhosa it translates as "pulling down the branch of a tree" but that its real meaning is "troublemaker."
And then he provides this summary:
Mandela is the closest thing the world has to a secular saint, but he would be the first to admit that he is something far more pedestrian: a politician. He overthrew apartheid and created a nonracial democratic South Africa by knowing precisely when and how to transition between his roles as warrior, martyr, diplomat and statesman. Uncomfortable with abstract philosophical concepts, he would often say to me that an issue "was not a question of principle; it was a question of tactics." He is a master tactician.
I'll list the 8 lessons Stengel identifies and a bit about each one. But you really should go read the whole article to get the entire effect. Stengel draws heavily from real experiences in Mandela's life to illustrate each point and the personal grounds it all so beautifully.
No. 1
Courage is not the absence of fear — it's inspiring others to move beyond it...

Prisoners who were with him said watching Mandela walk across the courtyard, upright and proud, was enough to keep them going for days. He knew that he was a model for others, and that gave him the strength to triumph over his own fear.

No. 2
Lead from the front — but don't leave your base behind...

His unwavering principle — the overthrow of apartheid and the achievement of one man, one vote — was immutable, but almost anything that helped him get to that goal he regarded as a tactic. He is the most pragmatic of idealists.

"He's a historical man," says Ramaphosa. "He was thinking way ahead of us. He has posterity in mind: How will they view what we've done?" Prison gave him the ability to take the long view. It had to; there was no other view possible. He was thinking in terms of not days and weeks but decades. He knew history was on his side, that the result was inevitable; it was just a question of how soon and how it would be achieved...

No. 3
Lead from the back — and let others believe they are in front...

The trick of leadership is allowing yourself to be led too. "It is wise," he said, "to persuade people to do things and make them think it was their own idea."

No. 4
Know your enemy — and learn about his favorite sport...

Mandela was a lawyer, and in prison he helped the warders with their legal problems. They were far less educated and worldly than he, and it was extraordinary to them that a black man was willing and able to help them. These were "the most ruthless and brutal of the apartheid regime's characters," says Allister Sparks, the great South African historian, and he "realized that even the worst and crudest could be negotiated with."

No. 5
Keep your friends close — and your rivals even closer...

Mandela believed that embracing his rivals was a way of controlling them: they were more dangerous on their own than within his circle of influence. He cherished loyalty, but he was never obsessed by it. After all, he used to say, "people act in their own interest." It was simply a fact of human nature, not a flaw or a defect. The flip side of being an optimist — and he is one — is trusting people too much. But Mandela recognized that the way to deal with those he didn't trust was to neutralize them with charm.

No. 6
Appearances matter — and remember to smile...

When Mandela was running for the presidency in 1994, he knew that symbols mattered as much as substance. He was never a great public speaker, and people often tuned out what he was saying after the first few minutes. But it was the iconography that people understood. When he was on a platform, he would always do the toyi-toyi, the township dance that was an emblem of the struggle. But more important was that dazzling, beatific, all-inclusive smile. For white South Africans, the smile symbolized Mandela's lack of bitterness and suggested that he was sympathetic to them. To black voters, it said, I am the happy warrior, and we will triumph. The ubiquitous ANC election poster was simply his smiling face. "The smile," says Ramaphosa, "was the message."...

No. 7
Nothing is black or white...

Mandela is comfortable with contradiction. As a politician, he was a pragmatist who saw the world as infinitely nuanced. Much of this, I believe, came from living as a black man under an apartheid system that offered a daily regimen of excruciating and debilitating moral choices: Do I defer to the white boss to get the job I want and avoid a punishment? Do I carry my pass?...

No. 8
Quitting is leading too...

Knowing how to abandon a failed idea, task or relationship is often the most difficult kind of decision a leader has to make.
I'm not going to comment on how much these descriptions resemble President Obama because it just seems so strikingly obvious to me. I hope it does to you as well.
What I will say is that some of the very progressives who lionize Nelson Mandela as a great leader, criticize Obama for these very same leadership qualities. How very short-sighted of them.
One final note; thanks so much to Monala who directed me to this article in a comment below. It is an absolute treasure!