Remember
this guy?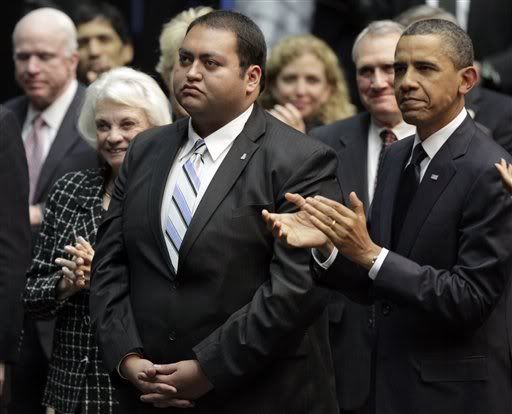 Of course he's the young intern who helped save Gabrielle Gifford's life.
Now he's taken on a new challenge.
Daniel Hernandez Jr. achieved a strange sort of celebrity when, a few days into his internship with Rep. Gabrielle Giffords' office, the congresswoman was shot outside a Tucson supermarket.

Hernandez propped up a gravely wounded Giffords (D-Ariz.) and applied pressure to her bloodied head. His actions were credited with helping save her life.

Since then, Hernandez has attended the State of the Union address, thrown the first pitch at Major League Baseball's All-Star game and recounted the events of Jan. 8 to groups around the country. "But I didn't feel like I was doing anything concrete," Hernandez said in an interview. "I wanted to find a way to do public service."

He will soon get his chance. On Tuesday, Hernandez, 21, was elected to a Tucson-area school board...

A University of Arizona political science major, Hernandez said he'd been in involved in education advocacy for some time. At first, his main concern was higher education, but his attention soon turned to dwindling funding for kindergarten through high school.

Arizona has slashed spending per student by 24% since fiscal year 2008, according to the Center on Budget and Policy Priorities. As a school board member in Sunnyside Unified School District, Hernandez said his top priority would be protecting all-day kindergarten.
Way to go Daniel!